Dental Bridges in Arlington Heights, IL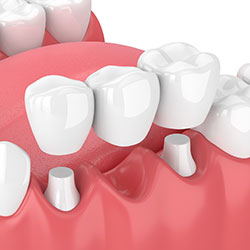 A bridge is a permanent solution for replacing a missing tooth. A bridge is cemented to the teeth adjacent to the open space and has a hygienic pontic (a floating tooth) that serves as a tooth replacement.
The difference between a bridge and an implant is that an implant is surgically placed into a patient's jawbone and restored with a crown. To place an implant, there must be enough healthy bone structure available to hold the implant in place. A bridge does not require surgery, but does require the teeth adjacent to the space to be healthy enough to be prepped for crowns.
Getting a Bridge at Maczko and Associates
The treatment procedure for a bridge usually consists of two to three appointments at our Arlington Heights dental office. Your initial appointment is to prepare the teeth adjacent to the space for crowns and to take impressions. Dr. Maczko then places a temporary bridge in that area to protect the teeth and prevent them from shifting into the open space. After two weeks, you will come back for bridge cementation. A third appointment would only be necessary to make fit adjustments.
You care for a dental bridge with routine tooth brushing and flossing, as well as learning how to floss with superfloss underneath the pontic that serves to close the space. You'll also need to visit Maczko and Associates for regular exams and cleanings at least every six months in order to keep the surrounding teeth health and strong.